Ultra hard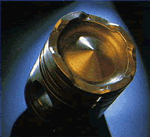 Surpassing the performance of regular hard anodizing, 'super-hard' a a glittering gold film generated by a special electrolytic solution.
The result of the many years of technical development, 'ultra hard' is a unique technology that was developed using the oxalic acid method as the base.
We guarantee to meet our customers' various demands in transportation equipment and parts for precision mechanical equipment.
Characteristics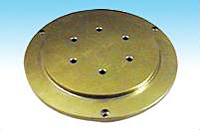 ・Ultra-hard film that has about Hv500. (Table 1)
・High electrical insulation property can be obtained since no cracks occur. (Table 1)
・Voltage resistance is more than twice the hard anodizing. (Table 1)
・Corrosion resistance is about five times that of stainless. (Table 1 and 2)
・Improved corrosion resistance (Table 1)
Comparison data
The reason why cracks do not occur.
By using an organic acid mixture and keeping the electrolyte at ambient temperature, cracks resulting from the difference in the thermal expansion coefficient between aluminium and anodizing (Al2O3) are eliminated.
Table 1. Comparison with hard anodizing. (Our ratio)
Alloy
Type of
anodizing
Thickness
(μm)
Hardness
(Hv)
Wear rate
(mg) ※1
Corrosion resistance
CASS (RN)
Voltage resistance
AC(kV)
Volume resistance
(Ωcm)
99.99%Al
Ultra hard anodizing
52.9
502
0.0020
9.3-4
2.6~3.4
25.3×10

10

Hard anodizing
52.5
408
0.0037
8.0-3
0.6~0.84
20.4×10

10

A5052
Ultra hard anodizing
53.6
480
0.0033
9.8-2
2.1~3.3
7.65×10

10

Hard anodizing
52.8
420
0.0040
9.8-3
1.0~1.5
1.01×10

10

A6063
Ultra hard anodizing
51.0
480
0.0023
9.8-3
2.0~3.4
5.59×10

10

Hard anodizing
52.3
416
0.0042
9.0-2
1.4~1.7
1.72×10

10
※1: Surface abrasion test is used to measure the wear amount (1500 times with 400g weight) and the weight loss each time is calculated.
Table 2. Comparison data with stainless steel. (Our ratio)
Alloy
Wear rate(mg)
A5056
(Ultra hard treatment)
0.010
SUS303
(Stainless steel)
0.056
The amount of wear is measured from a 2kg load in the surface abrasion test.