Hard anodizing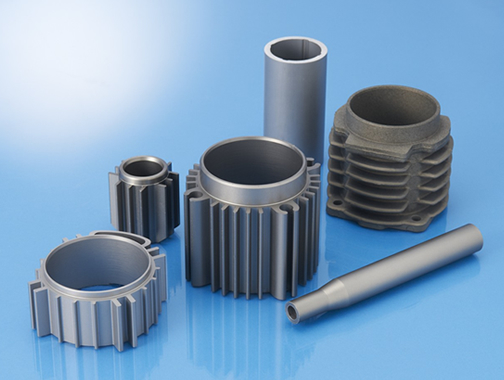 Hard coating can be done to drawn 2000 and 7000 series, di-casting (ADC12), and casting, which has been difficult to perform traditionally.
Hardness
・Drawn materials (except for 2000 and 7000 series)
A stable film hardness of about Hv400 is sustained.

2000 and 7000 series drawn materials, die-casting, and casting.
A film hardness of about Hv300 is possible, and we have achieved this on many occasions.
Wear resistance, corrosion resistance, voltage resistance, and volume resistance.
Alloy
Thickness
(μm)
Wear rate
(mg)※1
Corrosion resistance
CASS (RN)
Voltage resistance
AC(kV)
Volume resistance
(Ωcm)
99.99%Al
52.5
0.0037
8.0-3
0.6~0.8
20.4×10

10

A5052
52.8
0.0040
9.8-3
1.0~1.5
1.01×10

10

A6063
52.3
0.0042
9.0-2
1.4~1.7
1.72×10

10
※1: Surface abrasion test is used to measure the wear amount (1500 times with 400g weight) and the weight loss each time is calculated.
High-precision film thickness management
High-precision film thickness management can take place.
In addition, the optimal electrolysis conditions are determined in preliminary experiments in the prototype tank. That allows us to supply the products and quality our customers require.
Regular thickness
Our standard film thickness is between 20μm and 50μm, however it is also possible to thicken the film upon request.
Example of use
Automobile parts, precision machine parts, irregular-shaped cylinders and piston heads for compressors, farm equipment, belt pulleys, and magazines.