Regular anodizing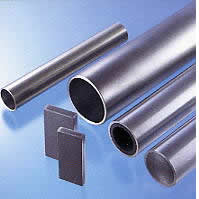 Our regular anodizing is different from other company's.
The film color is the same as ordinary anodized aluminium, but the film is produced in the dedicated hard anodizing line and the resulting film is harder than one generated by regular anodizing.
Our regular anodized aluminium is valued by our customers and we have received compliments saying that compared to other company's products, our products hardly get scratches in the production line.

Please contact us if you have trouble with products getting scratched easily or with low work efficiency because products have to be handled in the production line very carefully.
Hardness
We have a proven record of supplying parts that require high wear resistance such as cylinders, since our regular anodizing is able to generate harder films than other companys' anodizing process.
| | Hardness |
| --- | --- |
| Our standard anodizing | Hv250~350 |
| Other company's standard anodizing | Hv150~250 |
Corrosion resistance
Sufficient corrosion resistance can be obtained with a film thickness of about 15μm. In a typical use environment, there is no practical problem even with 6μm.
High-precision film thickness management
High-precision film thickness management is achieved.
In addition, the optimal electrolysis conditions are determined in preliminary experiments in the prototype tank. That allows us to supply the products and level of quality our customers are hoping for.
Standard thickness
Our standard film thickness is between 6μm and 15μm, however it is also possible to thicken the film upon request.
Examples of use
Automobile parts, precision machine parts, irregular-shaped cylinders, farm equipment, and other parts that require high ware resistance.