Ultra-precision anodizing of ADC12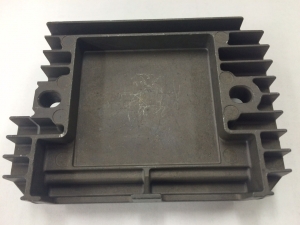 Traditionally, it was difficult to anodize die-casting aluminium alloy ADC12 with a uniform film due to the influence of silicon in the component.

At Nihon Shinkan, we were able to produce a uniform anodized aluminium film by developing specialized alumite treatment liquid and conditions and introducing a dedicated ionizing production line.
Characteristics of anodized aluminium film produced by the conventional method.

Conventional methods aimed to achieve an anodized aluminium film of 10μm, but the actual film thickness observed in photographs varies between 3 and 25 μm.
Disadvantages of conventional anodizing include unreliable corrosion resistance and dimensional variation when severe tolerance is required.
↓
Characteristics of anodized aluminium film produced by our dedicated ADC12 processing equipment

Aims to achieve an anodized aluminium film thickness of 10μm.
The actual thickness of the anodized aluminium film is a very stable. (9 - 11μm)

Characteristics of our ultra-precision anodizing
 1. Pre-treatment (heat treatment, acid treatment, etc.) of the material is not required.
 2. Corrosion resistance is stable.
 3. The thickness of the film, even when it is thick, is stable (eg, ±2μm when the thickness is 20μm)